Water Management – Irrigation Systems
A landscape is only as good as its Irrigation System.
Deciding to install a properly designed irrigation system will use less water and be more effective than hand-watering. We design and install irrigation systems using the best systems available.
Whenever we design an irrigation project, our goal is to design a system that will be reliable, cost-effective, and conscious of water conservation. Since each property has its own microclimates and unique soil conditions, each system we design is unique. We recommend using a drip irrigation system for planting, as it is the correct method to deliver water to the root system of the plants. Choosing the correct heads for lawn irrigation is also critical to achieving complete and efficient coverage.
Conserve water by hiring a professional who uses state-of-the-art irrigation systems.
Improperly installed or poorly maintained irrigation systems can waste thousands of gallons of water in just a few short hours. We design, install and maintain state-of-the-art commercial and residential irrigation systems to operate at the highest degree of efficiency.
To have a quality designed irrigation system, your system must conserve water, allow for even water distribution, feature automatic controlled watering, and protect the investment you have made in your landscaped property. Ganio Land Management's understanding and appreciation for the landscape layout, construction, and maintenance needs allow us to be more effective in the design and installation of your irrigation system. Dependable service to support the continuous operation of your irrigation system is a key component of every system we install.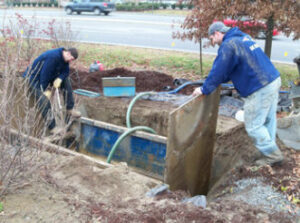 All irrigation systems installed by Ganio Land Management have the following warranties:
2 years on valves and controllers
5 years on piping
1 year on almost everything else
Experienced
We are experts in the irrigation field. We have installed residential systems as small as 15 heads to shopping centers as large as 1,500 heads.
Our Irrigation Services Include:
Proper soil preparation – the key to a successful landscape. When plant roots have the proper balance of soil, air and water, roots penetrate deeper, ensuring a plant's vigor and health.
Spray heads with pressure regulators. Using a lower pressure spray head (30 pounds per square inch) creates larger water droplets and cuts down on water associated with fogging or drift from excessive pressure.
Proper coverage – Turf, flowers, trees, and shrubs all have different water needs. We design irrigation systems so that each plant group gets just the right amount of water as the plants grow.
Check valves – preventing water from leaking out and onto paved areas.
Rain sensors, and soil moisture meters – to cut down on unnecessary irrigation.
Battery operated valves – where power is not available.